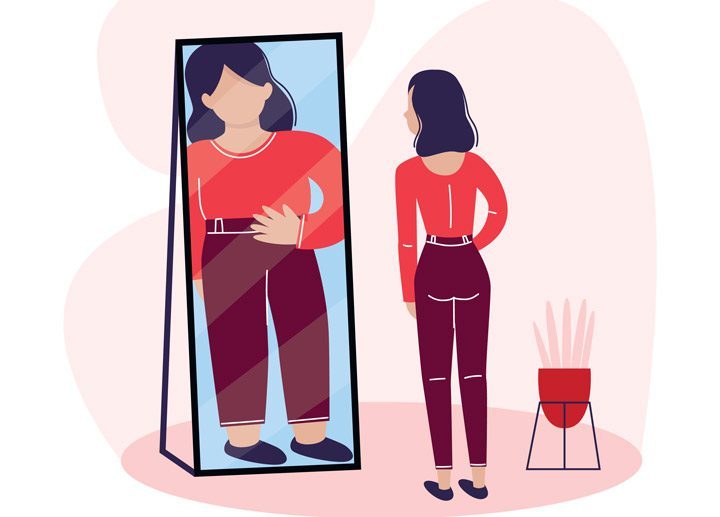 Eating disorders are complex and frightening for many people. It's imperative for a person with an eating disorder to receive comprehensive, individualized treatment to regain whole health. Here's what to expect.
What Are Eating Disorders?
The National Institute of Mental Health (NIMH) provides this definition for eating disorders: "serious medical illnesses marked by severe disturbances to a person's eating behaviors." NIMH states that anyone can suffer from an eating disorder, regardless of age, body weight, ethnic or racial background, or gender.
An individual can develop an eating disorder at any time in life, but the National Eating Disorders Association (NEDA) states that primary risk factors stem from three distinct categories:
Biological
This includes having a close relative with an eating disorder or co-occurring mental illness, a history of yo-yo dieting that has created a negative energy balance (burning more calories than those consumed), and having type 1 diabetes.
Psychological
Contributing factors include body image dissatisfaction, including body dysmorphia, behavioral inflexibility, a history of anxiety, and perfectionism.
Social
People often feel pressure to look a certain way due to bullying and peer pressure, projected weight stigma, appearance ideals, historical trauma, limited social support, and acculturation, which is a combination of adapted cultural norms, body image, and stress.
Data from NEDA indicates that 10 million men and 20 million women in the U.S. have experienced eating disorders. Types of disorders include:
Anorexia nervosa, in which a person believes they're grossly overweight but are actually dangerously underweight. This disorder might present as avoiding food, eating extremely small quantities of food, restricting food, and exercising too much.
Bulimia nervosa is a condition defined as not having control over eating choices. A person might ingest excessive amounts of food, then perhaps engage in food elimination to get rid of it.
Binge-eating disorder, which involves eating large quantities of food but not purging or eliminating after consumption. This often causes a person to become obese or morbidly obese.
Body dysmorphia, in which an individual sees flaws in their face or body. As a result, they often experience anxiety, embarrassment, or depression about these perceived defects.
Treatment for eating disorders involves addressing not only the presenting condition but also the underlying issues that are usually the root of the problem.
What's Involved in Eating Disorder Treatment
Numerous warning signs indicate an eating disorder, usually specific to a person's behavior. For example, someone suffering from anorexia nervosa might display extensive weight loss and a hyperactive exercise routine. Each disorder has particular symptoms, which are outlined on the NEDA site.
When a person or their loved ones express a concern about their condition, a self-assessment quiz is an important tool to start a conversation with a medical professional. This helps frame the condition in a non-judgmental way in order to outline treatment options.
Many people have success overcoming eating disorders at treatment facilities because:
They receive medically-supervised guidance.
They're removed from most stressors and triggers that exacerbate their condition.
They live in a continually supportive environment, which helps provide a safe haven to discover causation factors for their disorder.
Because origin factors differ so much by person and disorder, a comprehensive treatment plan must be designed to meet individual needs. For example, a patient of Cottonwood Tucson's secondary eating disorders program participates in a detailed clinical assessment administered by our medical team, eating disorder therapists, and registered dietitians. The presence of co-occurring conditions is also examined, such as mood disorders and substance use disorders.
Afterward, their personalized plan might include cognitive behavioral therapy, mindful eating sessions, and additional holistic methods to achieve a healthy balance in the mind, body, and spirit. There are numerous treatment options available to address the underlying reasons for an eating disorder, such as:
Acceptance and commitment therapy
Cognitive behavioral therapy
Dialectical behavioral therapy
Interpersonal psychotherapy
Family-based therapy
Body-oriented applications such as yoga, somatic experiencing, and biofeedback
Levels of care that may be recommended include:
Inpatient treatment, if an individual suffers with medical complications, testing reveals acute risk factors, or symptoms are rapidly worsening.
Residential treatment, if someone doesn't require serious medical treatment but may have a psychiatric impairment.
Partial hospital treatment, if a person's health is stable but they are having trouble functioning in daily life, such as working or going to school; or are still engaging in potentially harmful behavior such as fasting, purging, or binge eating.
Intensive outpatient treatment, if an individual is psychiatrically and medically stable, doesn't require monitoring, and doesn't have compromised daily functions.
The intent of eating disorder treatment is to help someone regain a healthy relationship with food, a more realistic perspective of body image, and stronger mental and emotional balance.
Compassionate Care at Cottonwood Tucson
Adapting behavior might be challenging at first, but with attentive care, proper education, and supportive guidance, it's much easier to embrace a healthy life. If you or a loved one has an eating disorder, contact us right away to discuss your options.
For more information about Cottonwood Tucson, eating disorder treatment in Tucson, Arizona, call
(888) 727-0441
. We are ready to help you or your loved one find lasting recovery.